Warehouse Automation
Automated Conveyor Systems
Automated Conveyor Systems
Automated conveyor systems are essential to an effect warehouse. Conveyor Systems are made up of a variety of conveyors that each balance price, function, and durability. As a Platinum Supplier of TGW Manufactured conveyors, we provide the high functioning systems at a superior value. Our experienced engineering team will choose the right equipment for your application and get you the very best return on investment. The TGW line of conveyors ranges from gravity conveyor to High-Speed Sortation Systems.
IntelliRol-Motor Driven Roller Conveyor Systems IntelliROL motorized-roller conveyor sets the standard in material handling flexibility. Its key is the use of a motorized roller that powers each zone or segment of the conveyor. A truly modular system that can be completely customized to meet your current requirements, IntelliROL can be easily reconfigured to address your future needs. The unique CRUZ frame design, with rollers mounted low, provides total protection for the electronic components that are pre-mounted and pre-wired at the factory. An optional conveyor shroud encloses the frame and provides additional protection for the electrical components. For the highest level of versatility and features that positively contribute to a quieter, more easily maintained system, put the power of TGW Conveyor IntelliROL to work for you.
Narrow Belt Accumulation and Transportation Conveyor
Narrow Belt Conveyor is a belt-driven live-roller conveyor that can be configured into zero-pressure contact accumulation and transportation conveyor using all the same frame and drive components. This versatility results in equipment, installation, and overall cost-of-ownership savings.
While offering excellent cost savings, NBC also incorporates high-value features as standard. The logic modules are easily set in the field for basic or progressive (train) release. The direct-drive belt is powered with a 97% efficient gear motor that reduces energy consumption. NBC utilizes CRUZ® frame with the rollers low and built-in guardrail configuration for all accumulation conveyors. A rollers-high version is used for all transportation style conveyors.
cruz belt conveyor Systems
Efficient Product Transportation
TGW Systems CRUZ®belt is different from any belt conveyor available today. Installation time for inclines and declines is greatly reduced due to the one-piece modular construction of the power feeder and nose-over which replace conventional components. The patented, self-aligning belt take-up provides initial belt tensioning in 45 seconds. The high-quality monofilament belt is easy to track. A 97% efficient bevel gearmotor provides energy savings. End pulleys are 2-1/2″ diameter to reduce gaps between units for small product transportation. A belt-low configuration eliminates the guard rail on floor-mounted conveyors and reduces guard rail requirements for overhead units.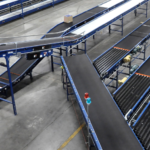 The CRUZ®channel seamlessly matches other TGW Systems CRUZchannel technologies – NBC, XenoPRESSURE, or IntelliROL.
cruzbelt –
Empty Carton Conveyor and Trash Conveyor (ECC)
Standard Equipment: A belt conveyor that breaks from the old belt traditions. The CRUZbelt unique design parameters such as integrated crossmembers, snubber slide brackets and end pulley cams result in minimal field adjustments and belt tracking. A new rolling cam belt take-up integrated into the profile of the channel depth which eliminates separate jack shaft adjustments, 2.5" end pulley that reduces the need for a transition roller for small product and a high quality durable monofilament belt.
True non-contact accumulation conveying products without damage.
TGW System's XenoPRESSURE XP43CZ provides true non-contact accumulation and features photoelectronic sensors and a pre-wired control system. Zero-pressure zones guarantee that products will not touch one another during accumulation. This is extremely important where fragile products require protection from damage. In addition, one product per zone allows singulated release. The unique line-shaft design utilizes a quiet pressure pad assembly. Upon a signal from the zone sensor, a XenoBRAKE assembly raises against the underside of the carrying rollers, quietly and efficiently stopping and locking their rotation. This stops the product in that zone.
CRUZcontrol is TGW Systems patented electronic sensing design, featuring integral photo-eye, solenoid valve, and control module all pre-assembled at our factory. The local control logic is built-in, not added at installation, greatly reducing field wiring and implementation time and expense.